Related Games
Xbox 360
I will, once every Friday, direct the spotlight to one specific game. It will be a game that many people never really gave a chance to. An underestimated game that never had the chance to show it's full potential. I will talk about the gameplay, graphics, achievements etc.
Too Human is up on this week's GotW.
Too Human was published during August, 2008 by Microsoft Game Studios. Too Human was ordered destroyed by the court in November 2011. Too Human was developed by Silicon Knights and is a action role-playing game from a third-person perspective.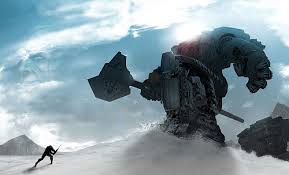 You play as the immortal guy, Baldur and will be sent on different missions that are threatened by demons.
Deja-vu anyone?
Despite my suggestion of the similarities between Neverdead and Too Human the games are quite different. The game uses a mixture of Norse mythology and science fiction. This makes the player recognize many of the characters while the scientific twists make sure there is an element of suprise. Some examples:
- Gods: cybernetical enhancement of bodies and minds make for powerful beings well above mortal standards.
- Odin: Organically Distributed Intelligence Network
Role Playing elements:
- Choosing a class from berserker, champion, defender, commando or bio engineer.
- Choosing an alignment from Cybernetic or Human.
- Selecting skills from the class- and alignment-based skill tree.
- Equipment selection.
- Equipment modification by embedding runes.
- Charms for "ruiner" abilities.
Discussing all these role playing elements would be make for a bit of text. Doing so is a bit outside the scope of this article. However the general consensus is that commandos make for some of the best characters. An optimized commando will rarely enter hand-to-hand combat because he is capable of obliterating enemies while they are far away. And even if the enemies manage to close the distance then there is the possibility of defensive toxin-pools or gravity wells popping up to take care of business.
Having said that my feeling is the game starts to get interesting at level 50. At that point you can start proper experimenting with your character. You can respec your skill tree and modify your equipment with different runes. There are a lot of options to explore.
Collectibles will come to you while playing the game. The only one which might give you some difficulty is "Complete a 7 piece Elite armor suit". Firstly because elite pieces are quite rare to drop. And even when they drop it isn't guaranteed to belong to the armor set you're trying to complete. The easiest way to do this is to borrow or trade with other players. If you're unable to find players to trade with then there is the possiblity of farming some of the boss-enemies.
Graphics
: The graphics feature excellent detail and lighting. Towering statues and buildings set a nice atmosphere. However after a few levels these scenes become a bit too familiar. While at the topic of graphics I would also like to mention the camera-control takes some getting used to. Unlike other games the analog sticks are used for combat and not camera-control. Like I said; this takes some getting used to.
Achievements
: The achievements are a nice mix of different things. There are achievements for leveling up, using different classes, different alignments, story progression (without dying in a level), collecting runes and getting kills.
Some of these achievements are quite hard to get by yourself, like the aforementioned 7-piece elite armor set. However if you manage to find a level 50 player who will guide you through the game then things are way more easy.
Multiplayer:
Too Human features two-player co-op. During co-op you can progress through the single-player levels. Progression and getting some achievements is made much easier by co-op. There are no level-restrictions for co-op. Basically a level 1 character can join a level 50 character. When one player makes kills then the player gains experience as well.
I have helped people like this in the past. Before the end of the first chapter they would have leveled up to somewhere between level 10 and level 15.
Back in November of 2011, Silicon Knights were ordered by the court to recall and destroy all copies of Too Human. Yes all digital and regular copies of the game were destroyed! This means you'll be lucky if you find a copy of the game in a second-hand store.
Despite the game ordered destroyed there is no need to worry about server issues. The game features p2p for online play. Thanks to n1ckkz for pointing this out.